My first proper blog post, thanks again for encouraging me to do this Cherryl!
This blog post is about my reflections on #rED14. The researchEd 2014 event was held yesterday at Raines Foundation School, Bethnal Green, East London.
Before the event
The SLT at my school very kindly got tickets for those of us that wanted to go to the #rED14 (thanks Richard for organising!). I jumped at the opportunity of going as always wanted to go to a #teachmeet  #TM type event and even better to see and talk to national and international education experts.
Morning sessions
It was great to meet Tom Bennett @tombennett71 and my colleague and I managed to get a selfie with him at the start of the day! We talked about his books and advice he regularly gives on the TES and how helpful this is.
I attended several sessions in the morning, including the EEF (Education Endowment Foundation) and was really interesting to listen to updates in educational research and research methods. This is something I really need to do more of but finding the time can sometimes be a struggle!
I then had to rush to get to Dylan Wiliam's lecture before it started to fill up and managed to get a seat on the upper balcony!
Having read Dylan Wiliam's book on Embedded Formative Assessment, I was really looking forward to listening to his views on assessment and other ideas regarding educational research.
He was extremely informative and engaging with how research education needs to be looked at carefully and reminded me of the importance of reliability and validity in the research and how only the papers that included this will be included in groundbreaking educational research. This brings me back to my MSc Education thesis days! Some of the research papers he looked at didn't even have a control group! I spoke with Dylan Wiliam afterwards and complimented him on his book and talked about his session briefly.
I then went to see Michael Cladingbowl, National Director of the Inspection Reform for Ofsted being interviewed with Sean Harford by Andrew Old.
It was interesting to see Ofsted in an informal setting and for them to talk about the issues they currently felt affected education and how they felt schooling had improved over time and recalled the days in the early 1990's when 'supply teachers weren't even given a key to a classroom' and tables and chairs were thrown with very little done about it in particular schools. Michael Cladingbowl also confirmed that there was no longer a need to use KS3 National Curriculum levels and that schools could be free to show assessment and progress in any way they wish. The two Ofsted inspectors then underwent a 'grilling' from several members of the audience during the Q+A session!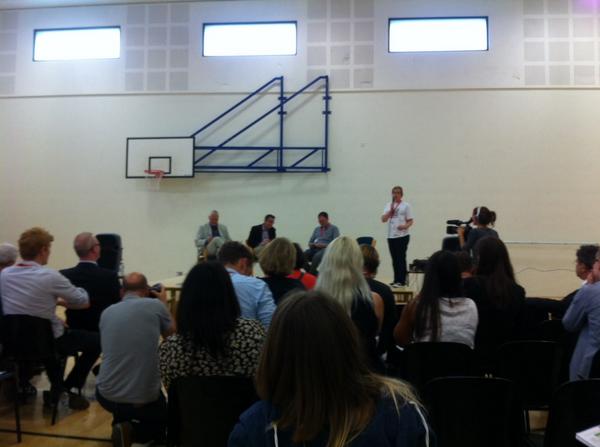 Afternoon sessions
I then really wanted to see Paul Black's assessment in pedagogy for the enrichment of learning but this session was unfortunately full.
Tristram Hunt's session was next on the agenda and this was a little disappointing, particularly because he read off a 'script' and made little attempt to engage with the audience until the Q+A session at the end. The speech was very monotonous and many people were on their phones and not on twitter so to speak!
Some of the things discussed were a little insulting to the teaching profession, such as implying that technology would be what improves the relationships between students and teachers when it is much more than this, as any teacher would know.
Later in the afternoon it was good to listen to subject-specific research in Science and to meet my twitter friend Helen Rogerson. We received some really good resource packs, including questions for governors and how students' views in Science Education should help change our practice.
Finally, was Tom Sherrington's session on acting on evidence from educational research, particularly with regards to homework. Tom was very knowledgeable about the importance of setting good quality and structured homework that allows students to progress and for us to 'proceed with caution' over research studies that suggest homework does not improve pupil outcomes. This may be because the homework being set was not effective in some of these studies so other variables were not being taken into consideration during the research process.
I was delighted to then be retweeted by the Department for Education: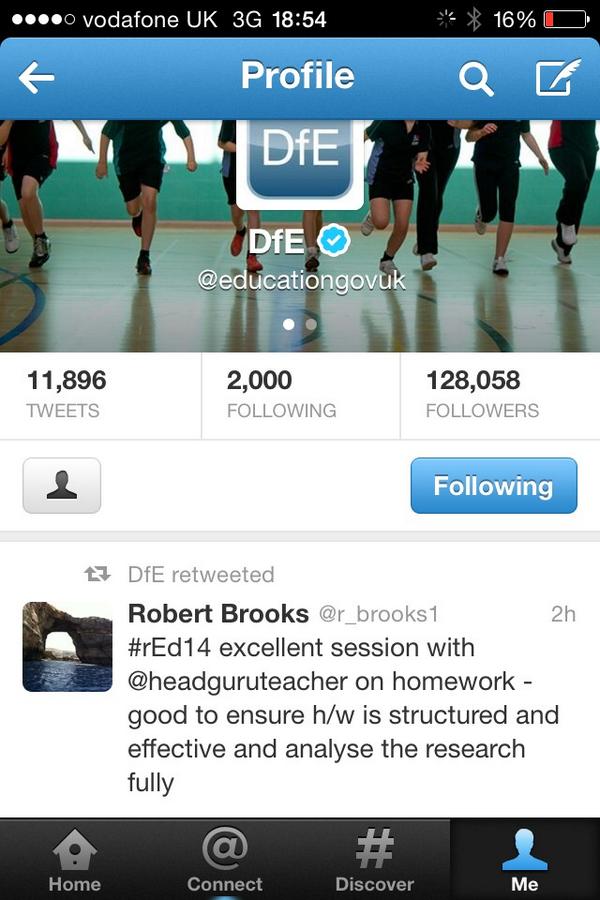 Overall a fantastic day and look forward to implementing some of the strategies and research learnt today and to coming again to rED#15 next year!